Adrien Broner on Allegedly Knocking Out Guy on Vegas Strip Who Touched His Jewelry (Part 13)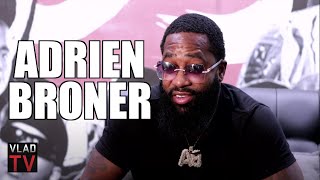 Part 12: https://youtu.be/S_V5bMZw8fs
Part 1: https://youtu.be/A0mKoYq5Khw
——–
Adrien Broner spoke about his third loss to Mikey Garcia, explaining this his gameplan was off that night. He admitted Garcia was a very skilled fighter but believes he could have beat him.
Broner also addressed an alleged incident on the Las Vegas strip, where he knocked out a group of civilians. The former boxing champion said he allegedly was by himself on the strip with over $1 million worth of jewelry on when a group of guys approached him and started touching him, which caused him to get nervous.
AB then spoke on his fight with Jessie Vargas, which ended in a draw. Broner believes he was robbed in that fight and highlighted that he's the only one in boxing that consistently fights world-class competition.