Chino Cappin Talks Going Viral w/ His Single "Slime", Working w/ Nash B + More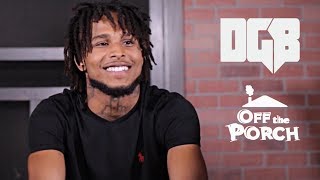 Chino Cappin "Off The Porch" Interview
We recently caught up with Georgia artist Chino Cappin for an exclusive "Off The Porch" interview. During our sit-down, he talks about coming from Fort Valley, GA, dropping out of high school to help provide for his mother, started writing and making music when he was 11 years old, mixing R&B with trap music, releasing his debut project "Cold Hearted" in April of 2019, working with producer Nash B, his buzzing single "Slime" that has over 140k views on YouTube, explains his single "LWYN", the music scene in Fort Valley, his goals for the next 3 years and much more.
Chino Cappin
https://www.instagram.com/chinocappin/
DGB Media
https://www.dirty-glove.com
https://www.instagram.com/dirtyglovebastard_
Tweets by DGB_Media
https://www.facebook.com/dirtyglovebastards
"Dirty Glove Weekly" Playlist
http://hyperurl.co/v3kt4h
Interview by Haze of DGB
https://www.instagram.com/mike_tall
Shot & edited by Andrew Yager
https://www.instagram.com/cmkproductions/
"Off The Porch" is Dirty Glove Bastard's exclusive interview series where artists, producers, DJs & industry insiders are given a platform to tell their unfiltered story. Dirty Glove Bastard was created in 2007 to shine more light on the buzzing, regional music scenes in the South & Midwest.
"Off The Porch" Interviews Playlist:
https://www.youtube.com/playlist?list=PLGZpaFw4cQ6PLtV-w_-9To6I7yrhShcGr