Has YFN Lucci Ever Cried Over Reginae Carter? | Established with Angela Yee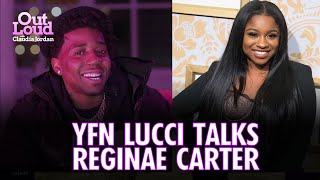 Atlanta rapper YFN Lucci talks about his on-again-off-again relationship with Reginae Carter. How they got back together again, whether he's ever cried over her, how Reginae get's along with his kids, and much more!
#YFNLucci #ReginaeCarter #AngelaYee #EstablishedWithAngelaYee
SUBSCRIBE to FOX SOUL on YouTube!!
►► https://www.youtube.com/c/FoxSoul?sub_confirmation=1
WATCH LIVE & EXPLORE MORE at: https://www.foxsoul.tv/
Download the FOX SOUL app to watch LIVE shows and full episodes while on the go!
Connect with FOX SOUL social:
Twitter ► https://twitter.com/foxsoultv
Instagram ► https://www.instagram.com/foxsoul
Facebook ► https://www.facebook.com/FOXSOUL
FOX SOUL is a new LIVE and interactive streaming network dedicated to the African American viewer. The programs aim to celebrate Black culture and deal with real topics that impact the everyday lives of the Black community through frank and insightful dialogue with local and national influencers.