Jacob Latimore Interview w/ DJ Scream on Hoodrich Radio!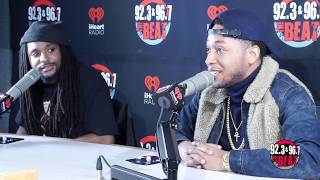 Jacob Latimore stops by Hoodrich Radio to chop it up with DJ Scream! Jacob talks about what he's been up to lately and his new show 'The Chi'. He discusses growing up in the spotlight as an entertainer and how he was able to rechannel his creativity into acting after a bad label deal with his music.
Scream asks Jacob which lane he prefers, acting or making music. Jacob reveals that they are very different but he puts his all into both. He talks about some of the game he has learned along the way from musicians who have found success in the realm of acting like Will Smith, Tyrese, Jennifer Hudson, and others.
Jacob talks about his new single and how he recorded the song out of his home while filming in Chicago. He says that it is hard to squeeze in music with his hectic schedule now, but he is committed to giving his fans what they want.
For more updates on Jacob Latimore follow him @JacobLatimore!