Koly P Talks Going To Prison, Getting Shot 3 Different Times, Broward Music Scene, Boosie, Mozzy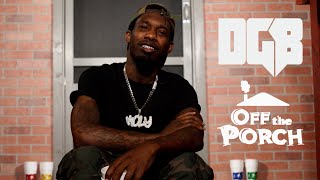 Koly P "Off The Porch" Interview
Last week we sat down with Florida rapper Koly P for an exclusive "Off The Porch" interview! During our conversation he talked about how Pompano compares to Atlanta, jumping off the porch, getting locked up for 4 years when he was 16, getting shot on 3 different occasions, moving to Atlanta, explains what being a father has taught him about life, the buzzing music scene in Broward County, Kodak Black kicking the door in for Broward, his new. Single "Walk Down" featuring Mozzy, his other single "Rapture Of Thugs", reveals. That Quando Rondo will be featured on the remix, upcoming project "Rumors Of War", being. Independent, buying his mom a new car for Mother's Day, still having a good relationship. With Boosie, the protests and much more!
Koly P
https://www.instagram.com/kolyon/
DGB Media
https://www.dirty-glove.com
https://www.instagram.com/dirtyglovebastard_
Tweets by DGB_Media
https://www.facebook.com/dirtyglovebastards
"Dirty Glove Weekly" Playlist
http://hyperurl.co/v3kt4h
Interview by Haze of DGB
https://www.instagram.com/mike_tall
Shot & edited by Mark Jones
https://www.instagram.com/iamdjmarkjones_tbmg/
"Off The Porch" is Dirty Glove Bastard's exclusive interview series where artists, producers, DJs & industry insiders are given a platform to tell their unfiltered story. Dirty Glove Bastard was created in 2007 to shine more light on the buzzing, regional music scenes in the South & Midwest.
"Off The Porch" Interviews Playlist:
🔔 PLEASE SUBSCRIBE, LIKE, COMMENT & SHARE!