Love & Hip Hop: Atlanta | Check Yourself Season 5 Episode 2: Are You Really Lezzie? | VH1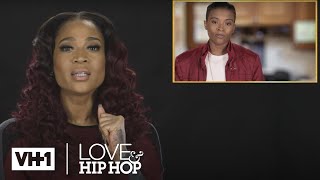 Scrappy and Yung Joc comment on their radio interview while Mimi Faust and Ariane discuss Ariane's interrogation about Chris and Mimi's lesbian relationship.
Subscribe to VH1: http://on.vh1.com/subscribe
Shows + Pop Culture + Music + Celebrity. VH1: We complete you.
Connect with VH1 Online
VH1 Official Site: http://vh1.com
Follow @VH1 on Twitter: http://twitter.com/VH1
Find VH1 on Facebook: http://facebook.com/VH1
Find VH1 on Tumblr : http://vh1.tumblr.com
Follow VH1 on Instagram : http://instagram.com/vh1
Find VH1 on Google + : http://plus.google.com/+vh1
Follow VH1 on Pinterest : http://pinterest.com/vh1
Love & Hip Hop: Atlanta | Check Yourself Season 5 Episode 2: Are You Really Lezzie? | VH1 http://www.youtube.com/user/VH1