Lyndale Explains Why He Is Banned From Performing In Kansas City, Talks New Music + More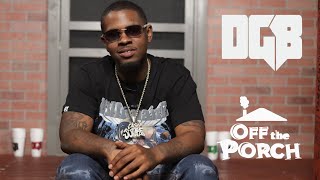 Lyndale "Off The Porch" Interview
We recently sat down with Kansas rapper Lyndale for an exclusive "Off The Porch" interview! During our conversation he discussed growing up in Kansas, his childhood, being banned from performing in Kansas City, moving to California, the music scene in Kansas City, his new single "Not Me", dropping two EPs this year, "Money Gang Baby 2", and "Before I Miss My Shot", the grind of being a independent artist, fatherhood, new music, and much more! 
Lyndale
https://www.instagram.com/Biglyndale29/
DGB Media
https://www.dirty-glove.com
https://www.instagram.com/dirtyglovebastard_
https://www.instagram.com/dgb_offtheporch/
Tweets by DGB_Media
https://www.facebook.com/dirtyglovebastards
"Dirty Glove Weekly" Playlist
http://hyperurl.co/v3kt4h
Interview by Haze of DGB
https://www.instagram.com/mike_tall
Shot by Brandon Collins
https://www.instagram.com/bcpbrandon/
"Off The Porch" is Dirty Glove Bastard's exclusive interview series where artists, producers, DJs & industry insiders are given a platform to tell their unfiltered story. Dirty Glove Bastard was created in 2007 to shine more light on the buzzing, regional music scenes in the South & Midwest.
"Off The Porch" Interviews Playlist:
???? PLEASE SUBSCRIBE, LIKE, COMMENT & SHARE!