PT Talks About The Music Scene In Madison, "Pablo" Single w/ Duke Deuce + More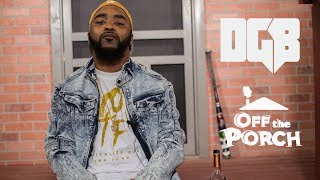 PT "Off The Porch" Interview
We recently sat down with Madison rapper PT for an exclusive "Off The Porch" interview. During our conversation, he discussed his upcoming music video for "Pablo" featuring Duke Deuce, being born & raised in Chicago before moving to Madison when he was 21, motivated to get out of the streets after becoming a father, taking music serious after one of his close friends was killed, recording his song "My Lil Brother" that was dedicated to his younger brother that passed away, the music scene in Madison, following Moneybagg Yo's artist blueprint, his brand COTF, working with Duke Deuce on his single "Pablo", his upcoming project "Summer Inna Winter", being an actor before he started rapping, says his real passion is acting, his goals for 2020 and much more!
PT
https://www.instagram.com/PTNOSLEEP/
DGB Media
https://www.dirty-glove.com
https://www.instagram.com/dirtyglovebastard_
Tweets by DGB_Media
https://www.facebook.com/dirtyglovebastards
"Dirty Glove Weekly" Playlist
http://hyperurl.co/v3kt4h
Interview by Haze of DGB
https://www.instagram.com/mike_tall
Shot & edited by @bcpbrandon
https://www.instagram.com/bcpbrandon/
"Off The Porch" is Dirty Glove Bastard's exclusive interview series where artists, producers, DJs & industry insiders are given a platform to tell their unfiltered story. Dirty Glove Bastard was created in 2007 to shine more light on the buzzing, regional music scenes in the South & Midwest.
"Off The Porch" Interviews Playlist:
???? PLEASE SUBSCRIBE, LIKE, COMMENT & SHARE!