Rich the Kid Hospitalized After Home Invasion | TMZ Live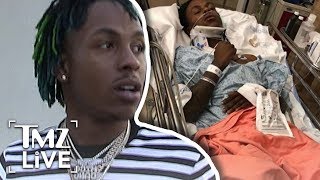 Rich the Kid was attacked and robbed at gunpoint in Los Angeles … and the beatdown was so severe it landed him in the hospital.
SUBSCRIBE: http://tmz.me/cLxA82p
About TMZ Live:
Subscribe to the TMZLive YouTube channel for new clips Monday-Friday at 1pm, 3pm, 6pm (PST).
TMZ Live blends elements of the TMZ website with TV for a global conversation that starts in the newsroom and involves viewers from all over the world via skype, phone and twitter. Join Harvey Levin, Charles Latibeaudiere and the rest of the TMZ staff as hot topics and breaking news are argued. Celebrities come in to talk about breaking stories, especially those in which they are involved.
Want to be on TMZ Live?
Call: (855) TMZ-LIVE
Facebook Message: @TMZLive
Skype: skypetmzlive@tmz.com
Need More TMZ?
TMZ Live Website: http://tmz.me/GxCXCfl
LIKE TMZ on Facebook! http://tmz.me/9sGB00a
FOLLOW TMZ on Twitter! http://tmz.me/9LeeNWQ
FOLLOW TMZ on Instagram! http://tmz.me/ep7d8Bn
TMZ on TV & TMZ Sports on FS1 Tune In Info: http://tmz.me/ccuirUZ
TMZ is on iOS! http://tmz.me/ecOjgiH
TMZ is on Android! http://tmz.me/pkwieRA
Got a Tip?
Contact TMZ: http://tmz.me/UsxYCvE
Check out TMZ, TMZ Sports and toofab!
TMZ: http://tmz.me/fPrTwZt
Subscribe! TMZ: http://tmz.me/wONe5NO
TMZ Sports: http://tmz.me/jMBERbb
Subscribe! TMZ Sports: http://tmz.me/jMBERbb
Toofab: http://tmz.me/dsXztns
Subscribe! toofab: http://tmz.me/VeVLMmi
https://www.youtube.com/c/TMZLive