T.C. Talks About Getting Master's Degree "Just Because I Have An Education Doesn't Mean I'm Soft"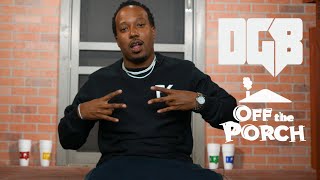 T.C. "Off The Porch" Interview
We recently sat down with Atlanta based rapper T.C. for an exclusive "Off The Porch" interview! During our conversation he talked about being born in New Haven, relocating to Atlanta when he was 10 years old, jumping off the porch, selling mixed CDs in school, gettin shot when he was 18, going to college and graduating with a Master's degree, investing into his music career, his versatile music style, his brand/label FKE, his new project 'Because I Can Sing', his upcoming project, his single "On My Own", being a father, baby momma drama, and much more!
T.C.
https://www.instagram.com/tcyadig/
DGB Media
https://www.dirty-glove.com
https://www.instagram.com/dirtyglovebastard_
Tweets by DGB_Media
https://www.facebook.com/dirtyglovebastards
"Dirty Glove Weekly" Playlist
http://hyperurl.co/v3kt4h
Interview by Haze of DGB
https://www.instagram.com/mike_tall
Shot & edited by Mark Jones
https://www.instagram.com/iamdjmarkjones_tbmg/
"Off The Porch" is Dirty Glove Bastard's exclusive interview series where artists, producers, DJs & industry insiders are given a platform to tell their unfiltered story. Dirty Glove Bastard was created in 2007 to shine more light on the buzzing, regional music scenes in the South & Midwest.
"Off The Porch" Interviews Playlist:
🔔 PLEASE SUBSCRIBE, LIKE, COMMENT & SHARE!