The DJ Paul of Three 6 Mafia Interview – No Jumper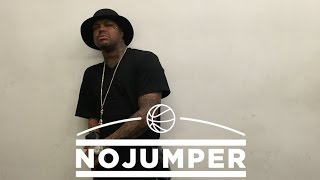 I still can't believe this happened. JGRXXN got DJ Paul in the studio with me and Robesman for an hour and a half of history, game and unadulterated real talk with perhaps the foremost stylistic influence in the genre of hip hop that No Jumper is most often associated with. Enjoy!
No Jumper is The Coolest Podcast In The World.
SUBSCRIBE for new interviews (and more) weekly: http://bit.ly/nastymondayz 
Follow us on Soundcloud: https://soundcloud.com/nojumper-1
and iTunes: https://itunes.apple.com/us/podcast/no-jumper/id1001659715?mt=2
and follow us on Social Media:
Tweets by nojumperdotcom
http://www.instagram.com/nojumperdotcom
follow Adam22 as well:
http://www.facebook.com/adam22
Tweets by onsomeshit
http://www.instagram.com/adamtwentytwo
and follow onsomeshit.com on Snapchat