Tory Lanez "Responds" To Megan Thee Stallion & DaBaby – Kelsey Nicole Throws Shade & Gets Exposed!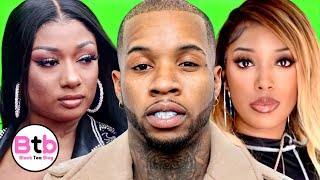 Tory Lanez took to Twitter last night to respond to Megan Thee Stallion. Tory Lanez called the situation messy and toxic and says he does not want to talk about it. Megan Thee Stallion ex-BFF Kelsey Nicole throws shade and then gets exposed!
???? Previous Tea » https://www.youtube.com/watch?v=V-4dfEJ3J7U
???? Subscribe to my channel » https://www.youtube.com/channel/UCxw-……
???? Let's Be Babes for Life
???? Twitter: https://twitter.com/BlackTeaBlog​​​​​…
???? Instagram: https://www.instagram.com/BlackTeaBlo…
???? Business Inquiries » connectwithnickispills@gmail.com
????Content by: Ebony
Disclaimer: The views and opinions expressed in this video and on Black Tea's Youtube Channel do not necessarily reflect the opinion of Black Tea or her associates/employees. All topics are for entertainment purposes only! None of the information presented in this video should be taken as fact and everything is alleged.
Copyright Disclaimer Under Section 107 of the Copyright Act 1976, allowance is made for "fair use" for purposes such as criticism, comment, news reporting, teaching, scholarship, and research. Fair use is a use permitted by copyright statute that might otherwise be infringing.
#torylanez #megantheestallion #kelseynicole