Trap Manny On Signing w/ A Boogie Wit Da Hoodie, Working w/ Pop Smoke, Conversation w/ Max B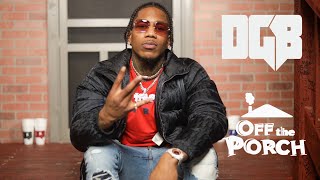 Trap Manny "Off The Porch" Interview
We recently sat down with New York rapper Trap Manny for an exclusive "Off The Porch" interview! During our interview he discussed, growing up in Highbridge, going to juvenile center after getting caught selling drugs when he was 12, being in and out of prison before he took rap serious, his music video for "Trenches" going viral, how the streets compare to the music industry, his close friendship with Don Q, signing to A Boogie Wit Da Hoodie's HBTL, Max B being his inspiration & speaking with him on the phone, his upcoming EP "In Trap We Trust", his single "50K" ft. Pop Smoke, working with Rubi Rose & Lil Durk, being versatile with his new music, dropping vlogs, working with Sada Baby, and much more! 
Trap Manny
https://www.instagram.com/trapmannyhbtl/
DGB Media
https://www.dirty-glove.com
https://www.instagram.com/dirtyglovebastard_
https://www.instagram.com/dgb_offtheporch/
Tweets by DGB_Media
https://www.facebook.com/dirtyglovebastards
"Dirty Glove Weekly" Playlist
http://hyperurl.co/v3kt4h
Interview by Haze of DGB
https://www.instagram.com/mike_tall
Shot by Brandon Collins
https://www.instagram.com/bcpbrandon/
"Off The Porch" is Dirty Glove Bastard's exclusive interview series where artists, producers, DJs & industry insiders are given a platform to tell their unfiltered story. Dirty Glove Bastard was created in 2007 to shine more light on the buzzing, regional music scenes in the South & Midwest.
"Off The Porch" Interviews Playlist:
🔔 PLEASE SUBSCRIBE, LIKE, COMMENT & SHARE!