YFN Lucci Calls Yak Gotti a Ho for Standing on His Car, Young Thug Beef (Part 6)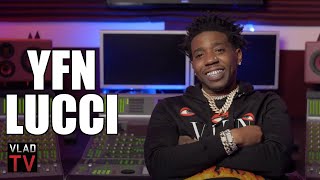 Part 7: https://youtu.be/OaXTwzyGSw8
Part 5: https://youtu.be/X9b7qRxfkck
Part 1: https://youtu.be/3Jln3_JAIzk
——–
In the latest clip, YFN Lucci spoke on a shooting that took place while he was filming music video. He described hearing four gunshots but not knowing where they were coming from until his team started firing back. The rapper also described a minor bullet hole causing $15,000 worth of damage to his car. Later in the clip, YFN Lucci responded to Yak Gotti taking a photo of himself standing on Lucci's car. When asked if he and Young Thug could squash their feud, he responded by saying there's nothing to work out.