YTB Trench Talks Joining YSL, Young Thug's Influence, Being Discovered By DrewFilmedIt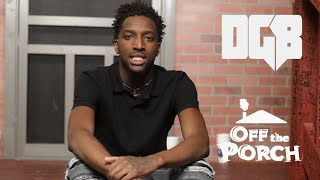 YTB Trench "Off The Porch" Interview
Last week we linked with buzzing Cincinnati rapper YTB Trench for an exclusive "Off The Porch" interview! During our conversation he talked about working on the new 'Slime Language 2' album, life in Cincinnati, jumping off the porch, just starting to make music 8 months ago, being influenced by Young Thug, being discovered by DrewFilmedit, Young Thug reaching out to him on IG, working with Thug on the remix to "My City", the music scene in Cincinnati right now, his upcoming project, and much more!
YTB Trench
https://www.instagram.com/ytbtrench/
DGB Media
https://www.dirty-glove.com
https://www.instagram.com/dirtyglovebastard_
https://www.instagram.com/dgb_offtheporch/
Tweets by DGB_Media
https://www.facebook.com/dirtyglovebastards
"Dirty Glove Weekly" Playlist
http://hyperurl.co/v3kt4h
Interview by Manny
https://www.instagram.com/mannyakiio/
Shot by Brandon Collins
https://www.instagram.com/bcpbrandon/
"Off The Porch" is Dirty Glove Bastard's exclusive interview series where artists, producers, DJs & industry insiders are given a platform to tell their unfiltered story. Dirty Glove Bastard was created in 2007 to shine more light on the buzzing, regional music scenes in the South & Midwest.
"Off The Porch" Interviews Playlist:
???? PLEASE SUBSCRIBE, LIKE, COMMENT & SHARE!