Mojo Responds To Gucci Mane's Snitching Allegations, Denies Being Ran Out Of The Park + More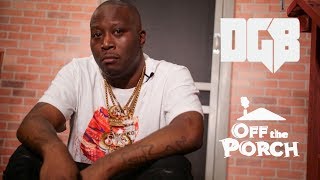 Mojo "Off The Porch" Interview
Earlier this week we sat down with Atlanta rapper Mojo for an exclusive "Off The Porch" interview to clear the air about allegations that Gucci Mane made about him. During our conversation he talked about how the east side of Atlanta has changed over the years, jumping off the porch, opening up his own studio, shares his thoughts one rappers not being truthful about their past, then goes on a lengthy rant about Gucci Mane, denies being at the park last week when Gucci allegedly ran him off, denies calling the police on Gucci back in 2014, claims Gucci had to get a pass from 21 Savage & Young Nudy to come to Bouldercrest last week, his label SYS, upcoming music & so much more!
Mojo
https://www.instagram.com/kingdranksys/
DGB Media
https://www.dirty-glove.com
https://www.instagram.com/dirtyglovebastard_
Tweets by DGB_Media
https://www.facebook.com/dirtyglovebastards
"Dirty Glove Weekly" Playlist
https://hyperurl.co/v3kt4h
Interview by Haze of DGB
https://www.instagram.com/mike_tall
Shot & edited by Mark Jones
https://www.instagram.com/iamdjmarkjones_tbmg/
"Off The Porch" is Dirty Glove Bastard's exclusive interview series where artists, producers, DJs & industry insiders are given a platform to tell their unfiltered story. Dirty Glove Bastard was created in 2007 to shine more light on the buzzing, regional music scenes in the South & Midwest.
"Off The Porch" Interviews Playlist:
🔔 PLEASE SUBSCRIBE, LIKE, COMMENT & SHARE!