Goldmouf Talks About Being Sentenced To 35 Years In Prison, Knowing Jeezy Before Rap + More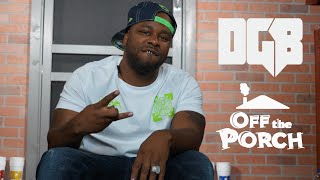 Goldmouf "Off The Porch" Interview
We recently linked with Macon rapper Goldmouf for an exclusive "Off The Porch" interview! During our sit down he talked about coming from Duncan Block in Macon, jumping off the porch, linking with Kinky B who introduced him to Jeezy, being the first person to give Jeezy a microphone to rap, being accused of 11 homicides, being charged with a double homicide when he was 13, getting sentenced to 35 years for attempted murder in Florida, being released earlier this year, writing for 2 books while locked up, his new project 'Dezigner Trap', catching a murder charge while locked up, working with Don Trip, upcoming remix with Young Dolph, his thoughts on the changes the rap game has gone through the past 15 years, and much more!
Goldmouf
https://www.instagram.com/streetlegendgold/
DGB Media
https://www.dirty-glove.com
https://www.instagram.com/dirtyglovebastard_
https://www.instagram.com/dgb_offtheporch/
Tweets by DGB_Media
https://www.facebook.com/dirtyglovebastards
"Dirty Glove Weekly" Playlist
http://hyperurl.co/v3kt4h
Interview by Manny
https://www.instagram.com/mannyakiio/
Shot & edited by Mark Jones
https://www.instagram.com/iamdjmarkjones_tbmg/
"Off The Porch" is Dirty Glove Bastard's exclusive interview series where artists, producers, DJs & industry insiders are given a platform to tell their unfiltered story. Dirty Glove Bastard was created in 2007 to shine more light on the buzzing, regional music scenes in the South & Midwest.
"Off The Porch" Interviews Playlist:
🔔 PLEASE SUBSCRIBE, LIKE, COMMENT & SHARE!